As you may know, NSX ALB is the only available option that allows LBaaS offering through VCD when NSX-T is used as the network backing type for the OrgVDCs. The native NSX-T loadbalancer isn't used in VCD.
Accordingly VCD will have to be integrated with NSX ALB for LBaaS offering.
After you prepare both NSX-T and NSX ALB environments, you will register your AVI controllers and NSX-T clouds with VCD, and import the service engine groups to be consumed by the organizations when creating virtual services through their tenant portals. However, you have to first enable load balancing on the Org edge gateways before you are able to create server pools and configure your virtual services on the tenant level.
In this post I will highlight an issue that I faced when enabling load balancing on an organization edge gateway when having VCD 10.4.0 integrated with NSX ALB 22.1.1. Hereunder is the error message that appeared:
Error: Class java.lang.NullPointerException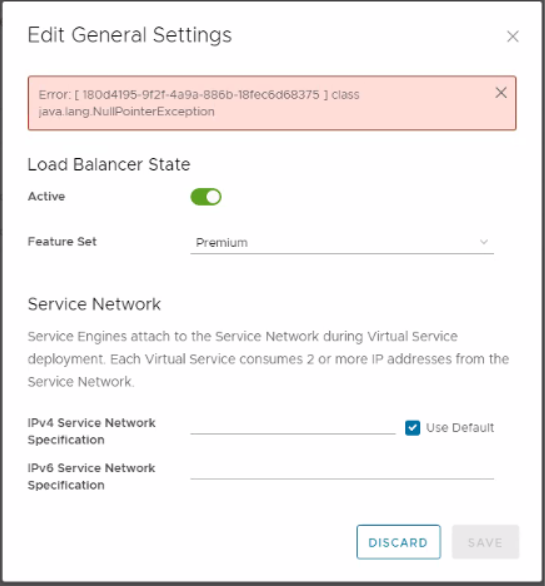 Although "Use Default" is enabled but it seems that the IPv4/IPv6 service network specifications are not taking the default values.
After a lot of troubleshooting and researching, it turned out that this is a known bug in VCD 10.4.0 and it is already fixed in VCD 10.4.1. However, the workaround to solve such issue on VCD 10.4.0 is to uncheck "Use Default" and specify both IPv4 and IPv6 addresses manually for the service network definitions.
IPv4 Service Network Specification: 192.168.255.1/25
IPv6 Service Network Specification: afc::1/64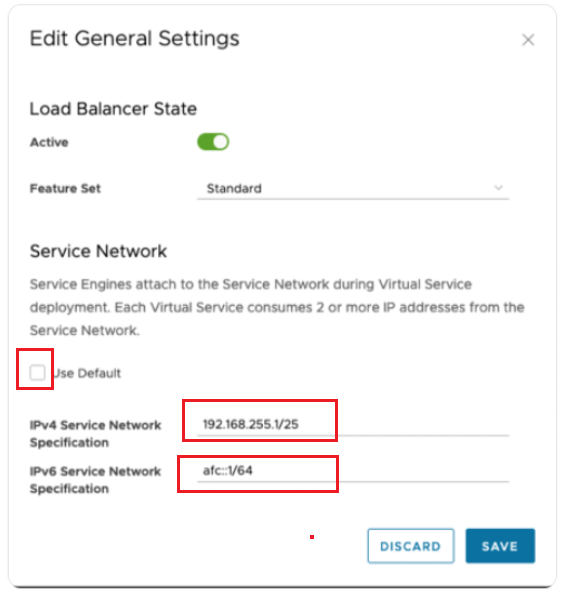 After enabling load balancing successfully on the Org edge gateway, you will be able to configure your monitors, server pools and virtual services.

Hope this post is informative,
Thanks for reading,
Total Page Visits: 1348 - Today Page Visits: 7