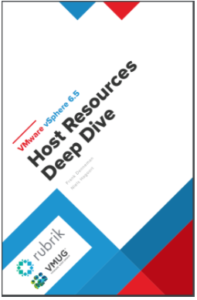 This is my first time I attended VMWorld Barcelona 2017. What an amazing event !!!
During my visit, I grabbed a hard copy of the "VMware vSphere 6.5 Host Resources Deep Dive" eBook signed by Niels Hagoort from Rubrik booth. I can't tell you what valuable information that book contains. Going through it is a must for every one in this field …
The book covers four main topics: CPU, Memory, Storage, and Networking. The in-depth read can only be described as a serious deep dive for people who seriously want to understand what is going on under the covers of their VMware environment.
As Frank and Niels describe it:
The VMware vSphere 6.5 Host Resources Deep Dive is a guide to building consistent high-performing ESXi hosts. A book that people can't put down. Written for administrators, architects, consultants, aspiring VCDX-es and people eager to learn more about the elements that control the behavior of CPU, memory, storage and network resources.
If you want  a copy of this book, just register at the below link and download it.
http://pages.rubrik.com/host-resources-deep-dive_request.html?utm_campaign=Rubrik-Blog
Hope you find my post helpful,
Mohamad Alhussein
Total Page Visits: 5774 - Today Page Visits: 1