Introduction:
From my opinion, setting up a lab and trying to break and fix the deployment is the best way to learn about the product before implementing a production environment. Beside the amazing HOL labs, sometimes you feel more confident if you setup your own lab from scratch going through all the scenarios that may arise.
Scenario:
So, I was setting up a vSphere 6.5 environment  for an NSX lab while I was preparing for my VCIX-NV certificate. I installed multiple ESXi 6.5 hosts and a vCenter VCSA 6.5 Update"e" without replacing any self-signed certificate.
Trying to deploy the NSX Manager OVA failed and the task hanged at 0% and must be cancelled.
Also trying to upload any file to datastore failed with the below error:
"The operation failed for an undetermined reason. Typically this problem occurs due to certificates that the browser does not trust. If you are using self-signed or custom certificates, open the URL in a new browser tab and accept the certificate, then retry the operation."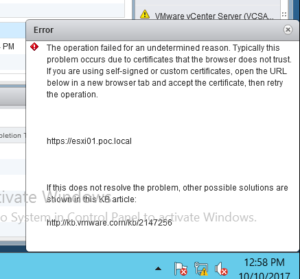 Solution:
Open the URL of your vCenter server: https://<VCSA IP Address or name> and download the trusted root CA files from the "getting started" page.
Unzip the file and install the certificate into your local machine "Trusted Root Certificate Authroties" store.
Next you need to import the CA certificates to your browser.  Go to "privacy and Security" and click "View Certificates".Go to "Authorities" and click "Import".

Select your certificate and choose "Trust this CA to identify websites". Note that there are two CA files corresponding to my two PSC controllers.

Now you should be able to upload file to your datastore and deploy OVA (in my case NSX Manager).
Hope my post help you in case you encounter this issue.
Mohamad Alhussein
Total Page Visits: 5095 - Today Page Visits: 1