In my previous post, I shared a step-by-step procedure to deploy NSX-T 2.4.1 manager. In this post, I am gonna move one step ahead and configure NSX-T licensing and register my home lab vCenter compute manager with NSX-T Data Center.
One feature of NSX-T Data Center management plane is that it is decoupled from vCenter Server (compute manager). A compute manager is an application that manages resources such as hosts and VMs. You can use NSX-T Data Center to manage the networking and security on other compute platforms.
It is optional to add a compute manger, because NSX-T gets inventory information even without a compute manger, such as standalone hosts and VMs. Although not tightly coupled, vCenter Server still provides greater value because of its ecosystem and functionality integration.
Licensing Configuration
Login to your NSX-T manager with your admin credentials via https://<NSX_MGR_IP Address or FQDN/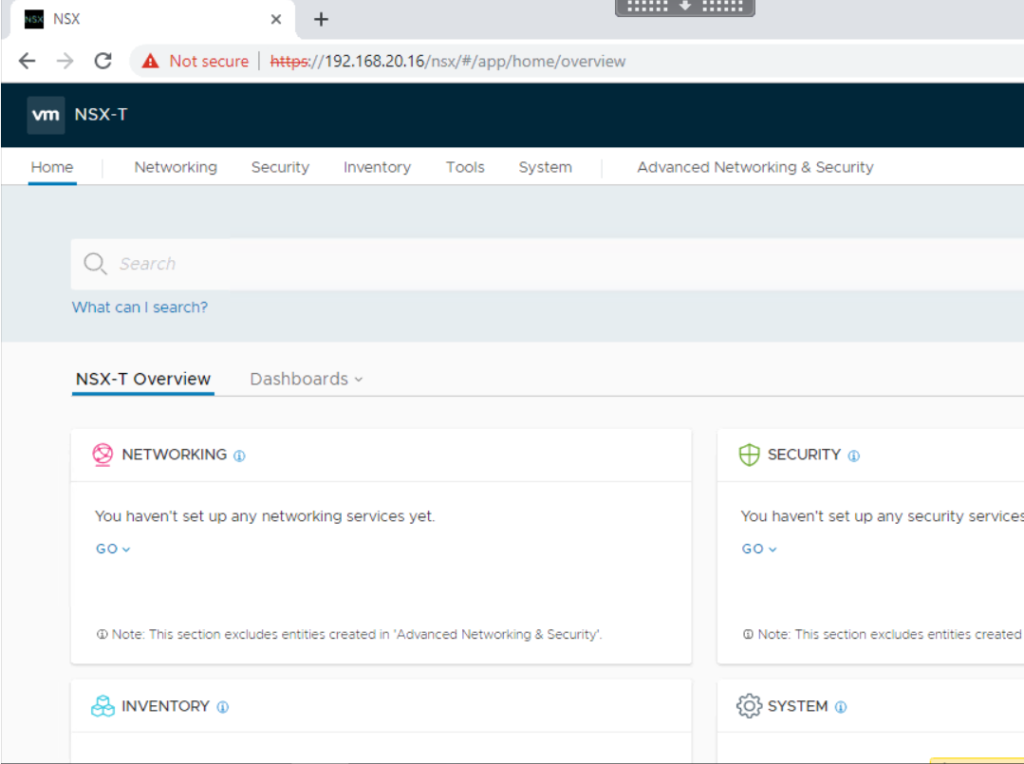 Navigate to System > Licensing.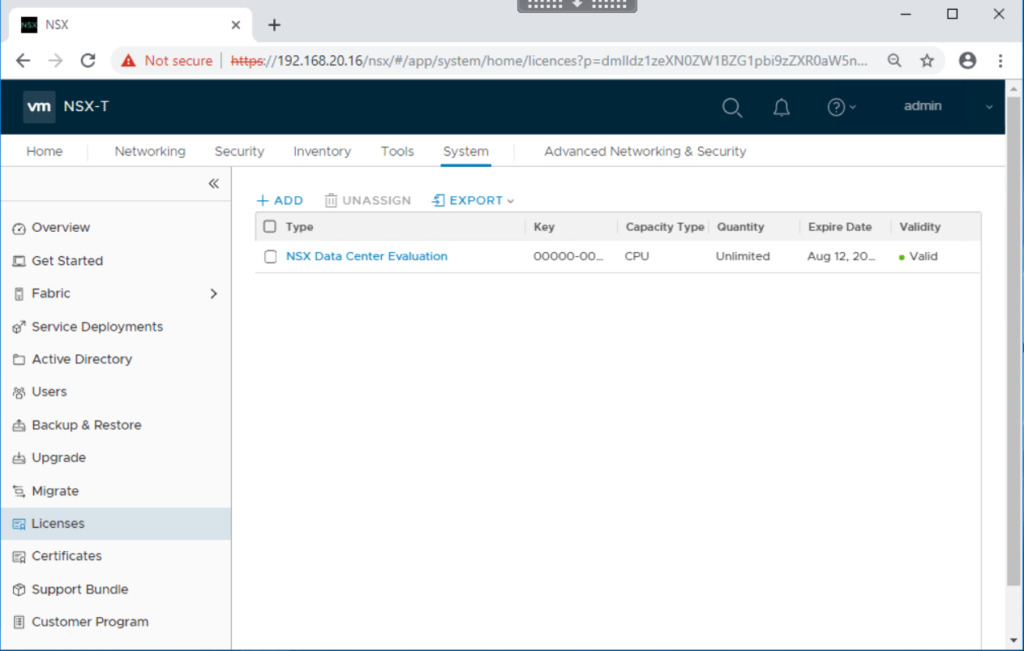 Notice that Installing a fresh NSX-T 2.4.1 is accompanied with an evaluation license that is valid for 3 months. Click +ADD and add your NSX license then Click ADD.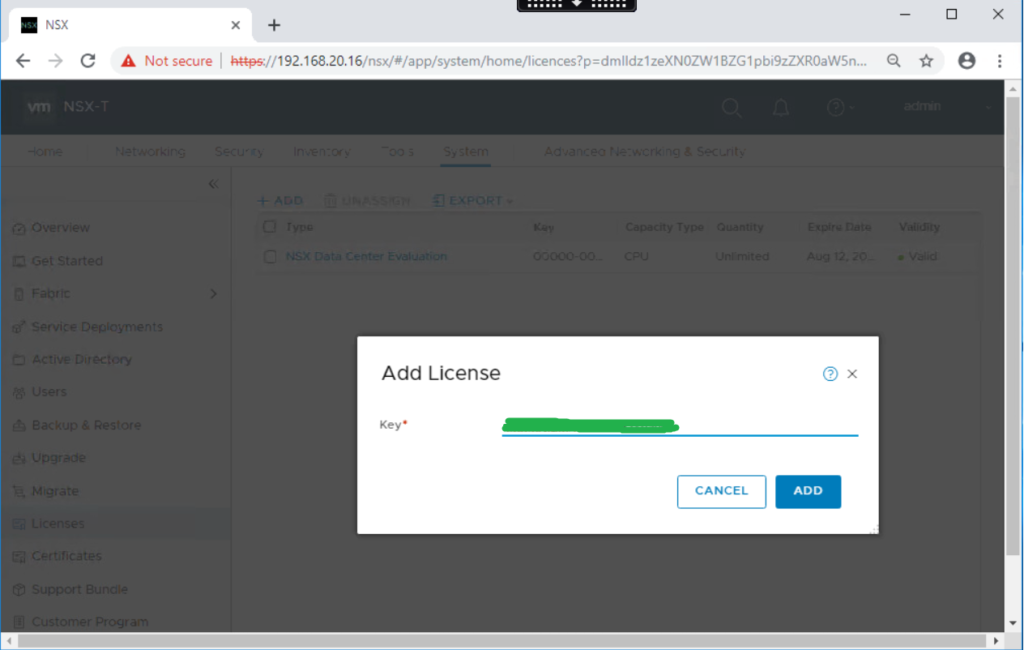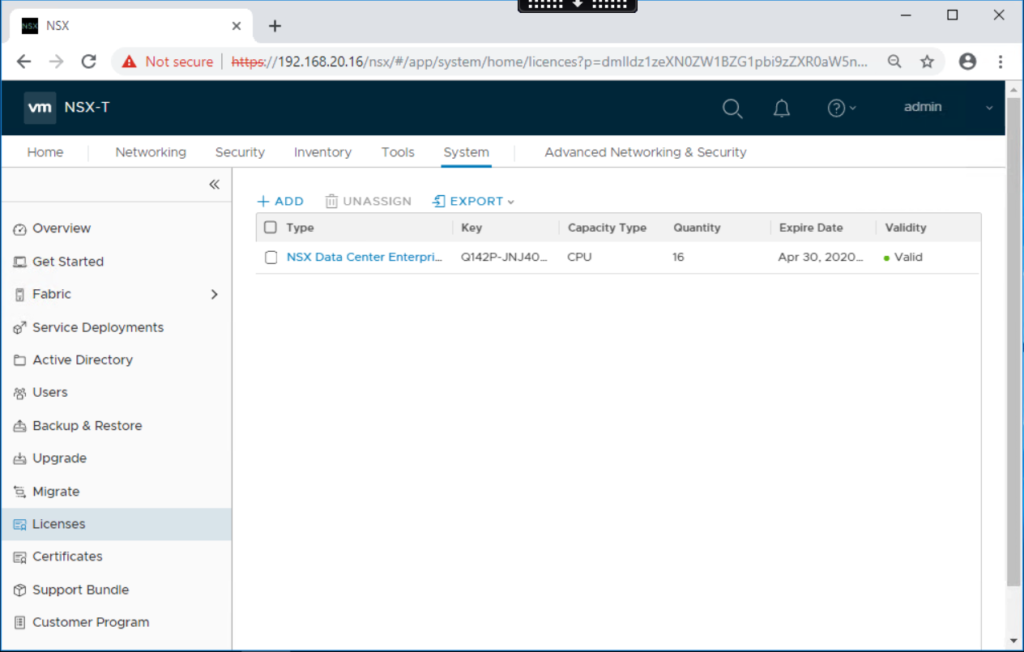 NSX-T for Data Center Enterprise license has been added successfully.
Note that whether it is NSX-v or NSX-T, NSX is NSX and the same license can be used for both products. For example, if you are a NSX-v customer and you decided to deploy NSX-T instead, you can still utilize the same purchased license.
Register Compute Manager to NSX-T Data Center
In this step, we will register a compute manager, such as vCenter server, to the NSX-T Data Center.
Navigate to System > Fabric > Compute Managers then Click +ADD.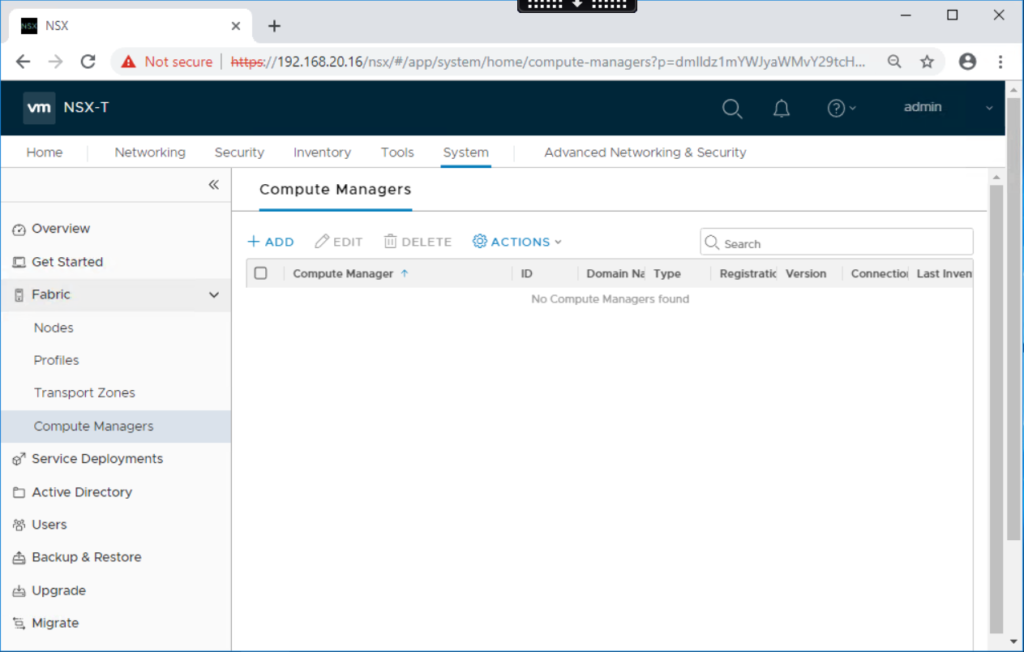 Add the configuration details to register the compute manager to the NSX-T Data Center such as: Name, vCenter FQDN, Type = vCenter, and SSO admin credentials. Click ADD.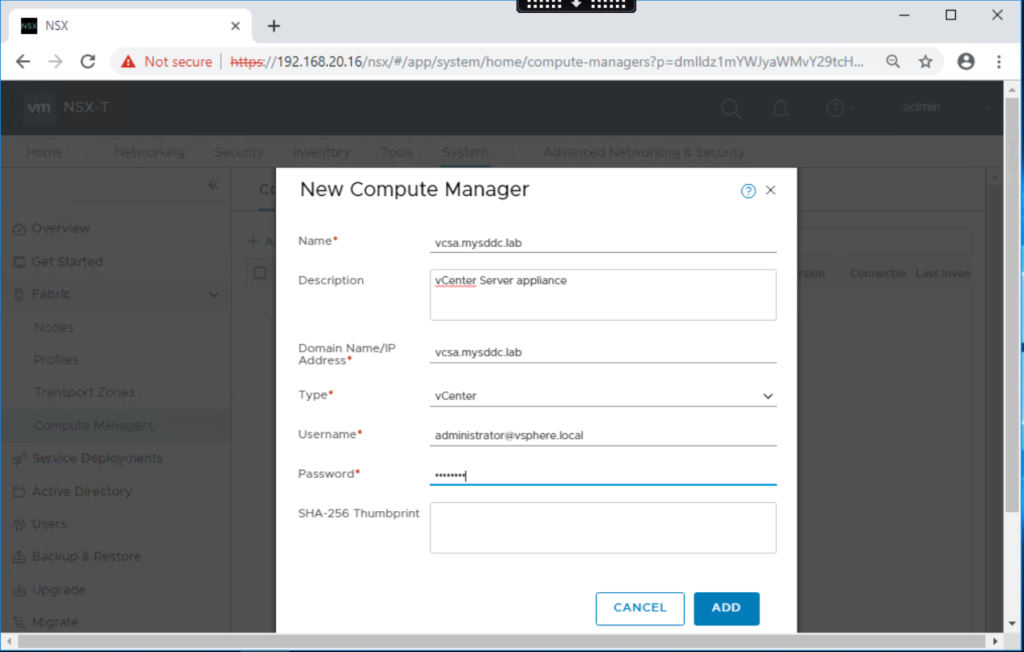 Review and accept the vCenter server thumbprint then click ADD.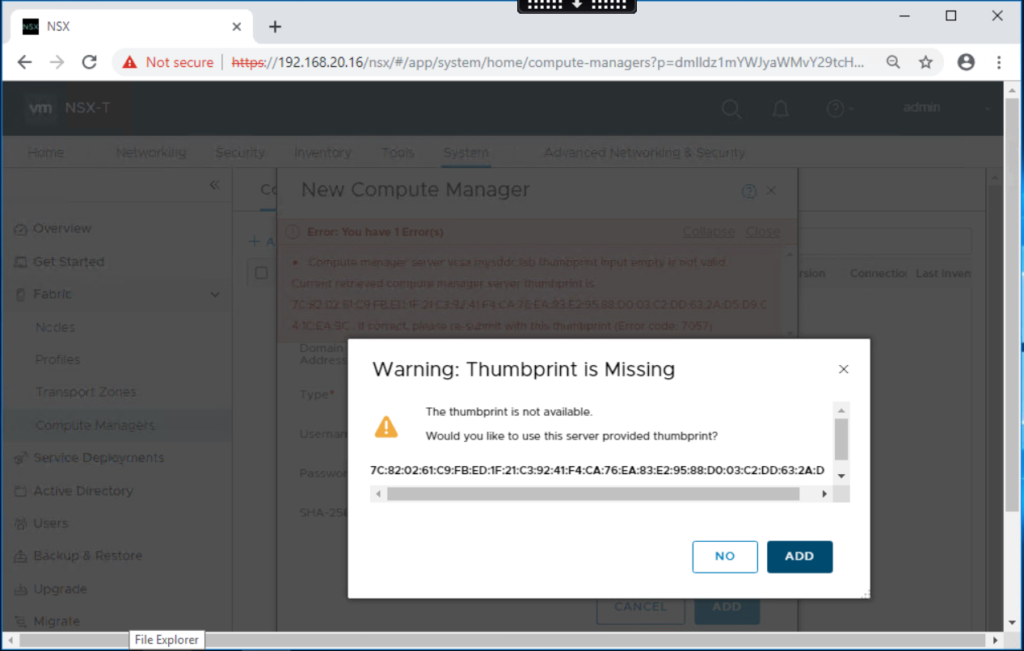 Verify that the vCenter compute manager is successfully registered.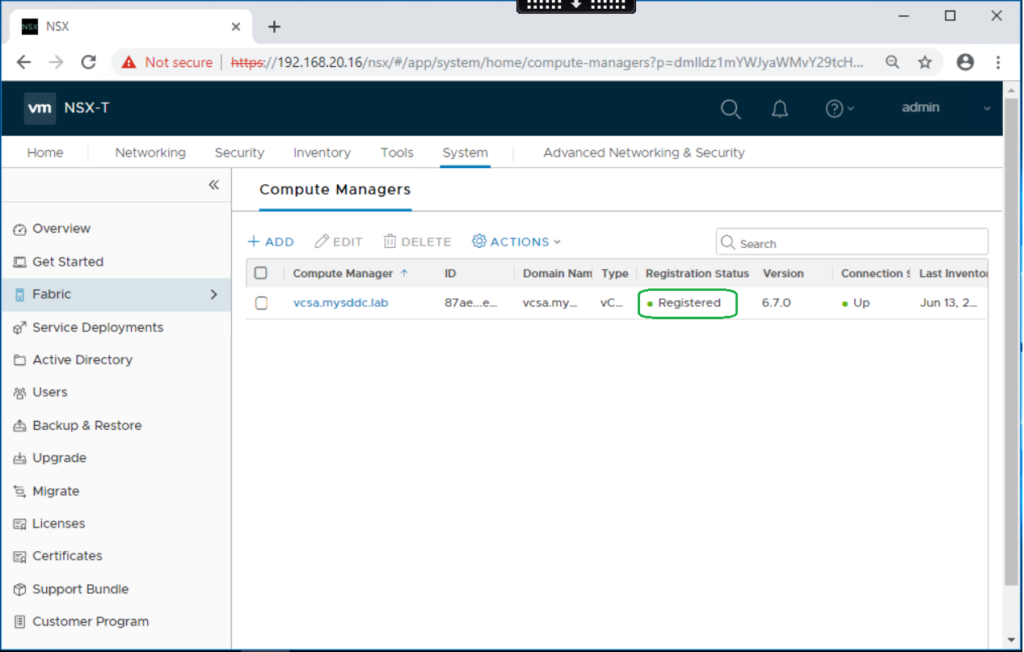 Next when you want to promote hosts as transport nodes, rather than adding and preparing each ESXi host separately, adding vCenter compute manager to NSX-T Data Center will offer you the option to prepare a host cluster that is managed by a compute manager such as vCenter server as in the below screenshot. This will simply ease your configuration.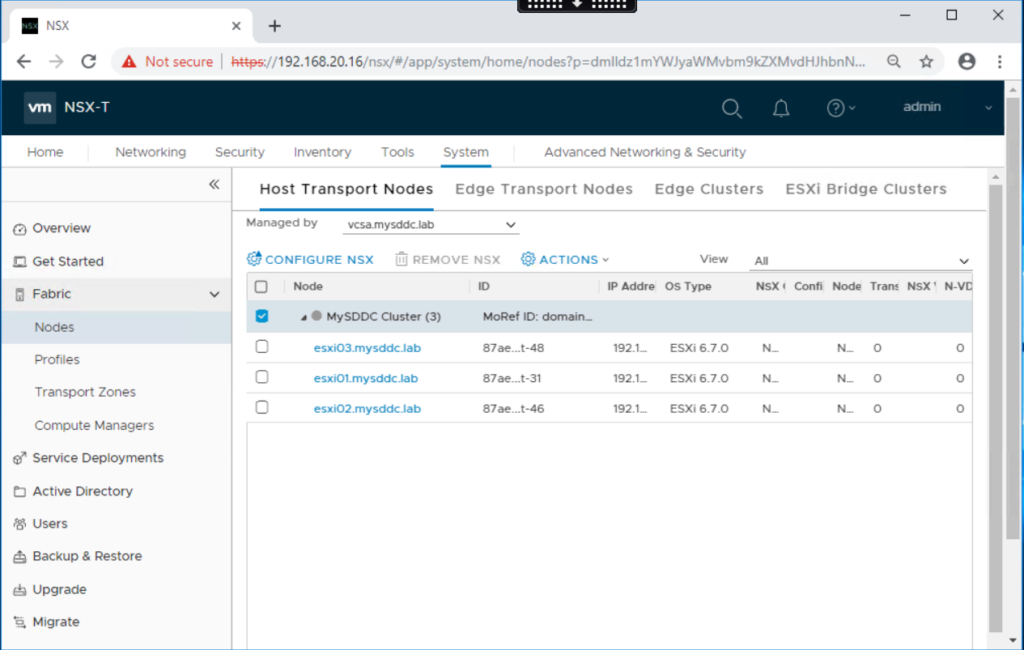 Note that , in the current release, you can add up to maximum 5 compute managers. vCenter server versions 6.5 U1/U2 and 6.7 are supported to be added as compute managers in NSX-T. NSX-T Data Center polls compute managers to find out about changes such as the addition/removal of hosts/VMs and updates its inventory accordingly.
In the next post, we will configure NSX-T manager clustering. Stay tuned !!
Hope this post is informative,
Thanks for reading,
Mohamad Alhussein
Total Page Visits: 6869 - Today Page Visits: 1